Moscow International Property Show
The World of Overseas property will return to Moscow for the Moscow International Property Show on 15-16 November 2019.
Adress: Moscow, Tishinskaya sq., 1, building 1
Launched in 2003 Moscow International Property Show attracted developers and realtors from over 30 countries including Spain, Greece, Bulgaria, Thailand, Germany, Cyprus, France, United Kingdom, Montenegro, Turkey and the Czech Republic.
Russians are keeping many overseas markets alive and are still buying heavily in Europe, North America and parts of Asia. However to sell to a Russian investor or buyer requires patience, with most exhibitors making several trips, before they can gain the buyers confidence and of course their funds.
Several of the companies who have been marketing their property for a number of years are now beginning to benefit from all their hard work. They reported a high number of completed sales at the recent winter exhibition, with many buyers also planning to visit their projects in the future.
Bogdan Polyakov, from Kennen GmbH from Germany said, 'We were the first German company to participate in the Moscow International Property Show back in 2006. At that time nobody thought about Germany, everyone asked in bewilderment: "What? Germany? Why? There is no sea, no beach! However having persevered and after a lot of hard work, now the demand for Germany is strong.'
Another long term participant is Hungarian developer Westinvest. Irina Szucskova their sales manager added, 'Hungary is far from being a popular country, however the Russian older generation is still interested in buying there and they come to us at every show, are always interested and eventually in a year or two they make the decision to buy a property. That is why it is important to participate in this event permanently, to be in the limelight. After all, the confidence is generated over the years.'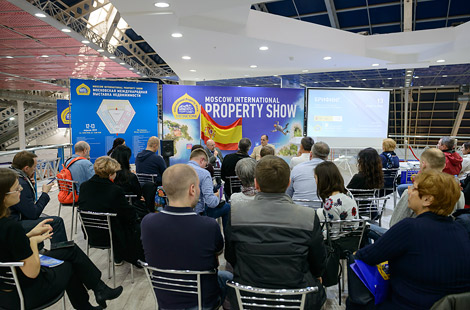 Kim Waddoup CEO at aiGroup, organisers of the exhibition explained. 'While many developers take part in shows all over the world, promoting real estate in Russia is a totally different experience. It requires careful planning as investors here are spending, but with caution. They like to get to know a company first before handing over any funds.'
Kalina Angelova fromBulgaria's IBG, said, 'We have attended this event every time and we often manage to make a deal directly here during the Show. Moreover, to participate here is a good publicity and prestigious for our company as well.'
Kima Property from Greece said, 'this is the third time we are here. We do not enter into contracts right here, as most prefer to come to visit us first. After all, if a person has not seen the house, how can he buy it? Yet here we recognize a lot of prospective buyers and after the show we experience a substantial boost of customers.'
Kim Waddoup added, 'our highly targeted marketing campaign is working and producing excellent results for our exhibitors. Many of the visitors know what they want, having read the magazines beforehand or have searched on line. The shows always have a high attendance, and we often have a queues to get in. Every season we are unable to accommodate all the exhibitors on our waiting list.'
http://www.internationalproperty.ru/